Ubiquiti UniFi Pro Dual Band 3x3 Indoor/Outdoor Access Point
The UniFi UAP-AC-PRO ver2 WiFi Access Point from Ubiquiti Networks is a scalable enterprise access point solution designed to be easily deployed and managed. This AP has a sleek design and can be easily mounted to a ceiling tile or wall using the included mounting hardware. This WiFi system includes UniFi Controller software that can be installed on a PC, Mac or Linux machine within the network and is easily accessible through a standard web browser. Using this software, your enterprise WiFi network can be quickly configured and administered without any technical training. Real-time status, automatic UAP device detection, map loading, and advanced security options are all seamlessly integrated in the system.
This AP supports the 802.11ac WiFi standard with speeds of up to 1300Mb/s in the 5GHz radio band, and up to 450Mb/s in the 2.4GHz radio band. The system offers simultaneous dual band operation with 3 x 3 MIMO technology for each band. It has a range of up to 400' and 2 Gigabit Ethernet ports. Unlike previous UAP units, the UAP-AC-PRO has option of band steering (it will push clients to the less congested 5GHz spectrum) and also has a built-in spectral analyser that will help with choosing the right WiFi channel. The UAP-AC-PRO also allows for wireless uplink.
UAP-AC-PRO v2


The newly redesigned UniFi Controller optimizes RF performance: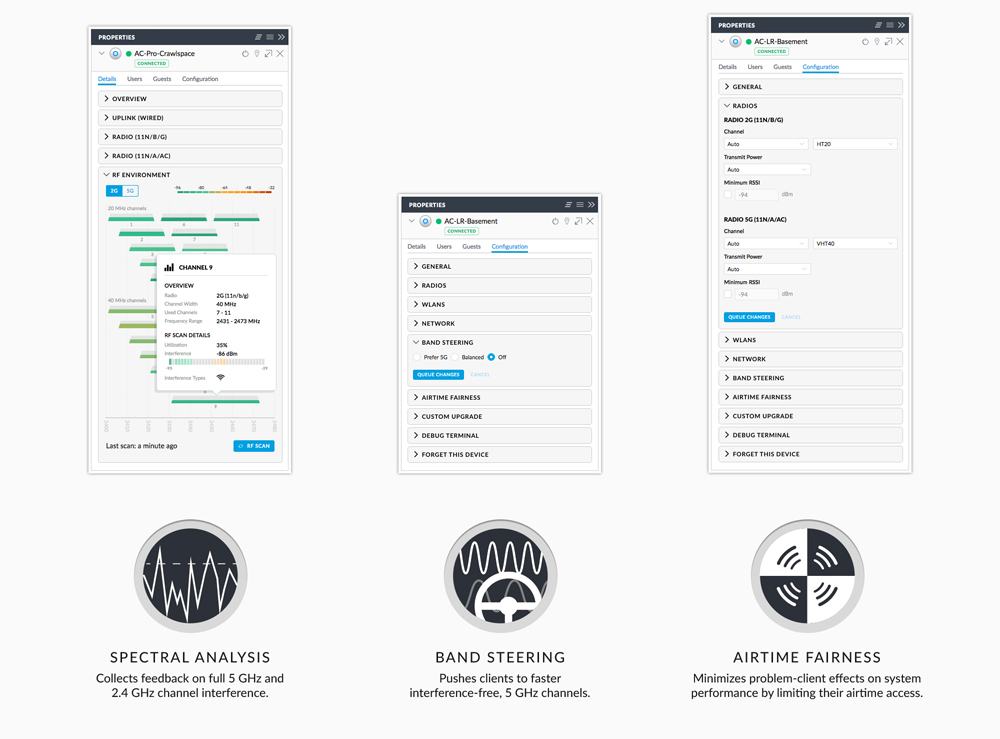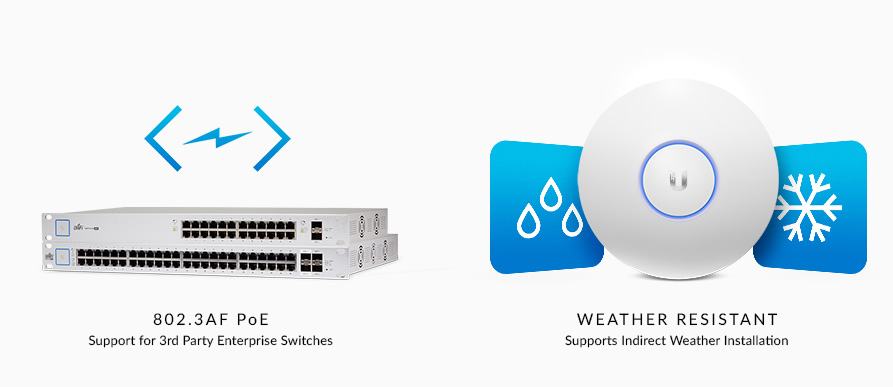 Easy customization options for guest portals include: authentication, hotspot setup, and the ability to use your own external portal server. You can also use UniFi's rate limiting for guest portal/hotspot package offerings to apply different bandwidth rates (download/upload), limit total data usage, and limit duration of use. The UniFi AP includes hotspot functionality (with built-in hotspot manager for voucher creation, guest management, payment refund, full customisation, and branding of portal pages) and built-in support for billing integration using major credit cards and built-in support for voucher-based authentication.
A single UniFi Controller running in the cloud can manage multiple sites, multiple, distributed deployments, and multi-tenancy for managed service providers. Each site is logically separated and has its own configuration, maps, statistics, guest portals, and administrator read/write, and read-only accounts.
The unit can be powered from included PoE adapter as well as the Ubiquiti Unifi Switch PoE (sold separately). 
Technical Specifications:
Networking Interface: (2) 10/100/1000 Ethernet Ports

Antennas: (3) Dual-Band Antennas, 3 dBi Each

it is weatherproof, indoor or outdoor 

Max TX Power: 2.4GHz: 22 dBm - 5GHz: 22 dBm

Buttons: Reset

Wifi Standards: 802.11 a/b/g/n/ac

Power Method: Passive Power over Ethernet (48V), 802.3af/803.2at Supported (Supported Voltage Range: 44 to 57VDC)

Maximum Power Consumption: 9W, (20W with optional accessory)

BSSID: Up to Four Per Radio

Power Save: Supported

Wireless Security: WEP, WPA-PSK, WPA-Enterprise (WPA/WPA2, TKIP/AES)

Mounting: Wall and Ceiling
Device Features

Mountable, Mountable, PoE Powered

Antenna Gain (dBi)

3, 3

Device Type

Access Point

MIMO

3x3

Wireless System

2.4GHz, 5GHz

Ethernet Ports

2, 2
Customers who bought this product also bought: