ML-60-10G-360 IgniteNet MetroLinq Tri Band Omni Base Station
This ML-60-10G-360 from IgniteNet is a powerful multipoint base station capable of delivering 10 Gbps aggregate throughput, providing fibre-like connections to many clients simultaneously. The MetroLinq 10G has a 35 degree vertical angle and features (3) 120 degree 60GHz beamforming sectors for network backhaul as well as 360 degree 5GHz and 2.4GHz coverage. This device features (1) Gigabit Ethernet Port, (1) SFP+ port and includes both 2.4GHz and 5GHz radios to provide access in harder to reach nLOS applications. 
Supported range Omni to LW: 150m (.1 mile)
Inteference-Free & Unlicensed Band
The IgniteNet MetroLinq 10G offers unprecedented performance - combining both the benefits of unlicensed band operation with no interference!
Tri Band 60GHz + 5GHz + 2.4 GHz Operation
The MetroLinq 10G includes both additional 2.4 & 5GHz radios which can be to provide both supplemental connectivity to hard to reach places as well as carrier offload, hotspot, and mobile roaming capabilities.
Powerful, Flexible Configuration
The MetroLinq 10G can operate either as a stand-alone device or as a coordinated, cloud-managed device, easily meeting the requirements of any installation.
Robust Weather-Resistant Design
The MetroLinq 10G features a hybrid metal/plastic design built to withstand the harshest environments including precipitation, hot/cold weather and high/ low humidities.
Tri-band flexibility
The MetroLinq 10G base station has three 120° 60 GHz beamforming sectors enabling interference-free connections to form network backhaul rings as well as to connect high-capacity 60 GHz fixed wireless broadband clients. There is also a built-in 5 GHz radio with 360° coverage which can be used as a failover for 60 GHz clients, for pure 5 GHz fixed wireless broadband clients, or for access for nearby Wi-Fi clients. Finally, there is a 2.4 GHz radio with 360° coverage which is dedicated for nearby Wi-Fi clients as well.

10+ Gbps
The 10G Omni has a 10 Gigabit SFP+ port allowing full speed backhaul of the ultra-fast tri-band radios as well as a secondary 1 Gbps Ethernet port with PoE in support that can be used for out of band management or for the connectivity of additional devices like IP Cameras. There is also a DC terminal block which can be used to power up the unit.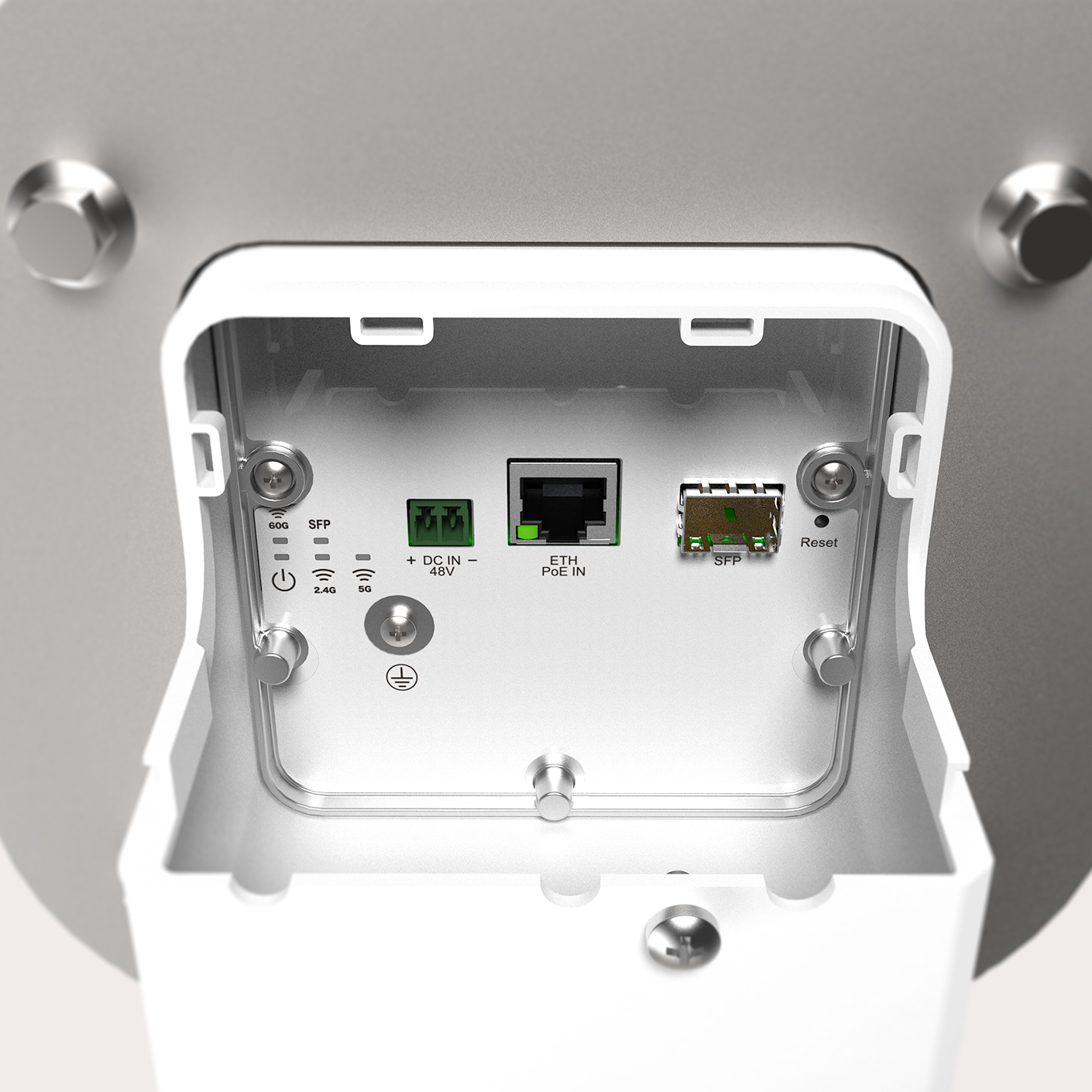 Powerful OS
The advanced operating system has a professional feature-set required to do ultra high speed point-to-point and point-to-multipoint communications. It includes 128 bit AES encryption for security, jumbo frame support, advanced 5 GHz failover capabilities and many more. Each base-station can be configured individually as well as centrally using our cloud based controller available at: https://cloud.ignitenet.com/welcome/login.
Multiple client device options
MetroLinq 10G Omni is a universal product allowing to connect different type of clients on 60, 5 and 2.4 GHz frequencies. Above picture illustrates average recommended distances to connect wireless clients.
Main applications
MetroLinq 10G Omni can be used to form rings and build hybrid fiber wireless networks to extend the existing fiber infrastructure quickly and cost effectively. It is ideal not only for backhaul but also for the last-mile access applications. From high-speed business broadband to multi-gigabit rural connectivity, MetroLinq 10G Omni is the most universal base-station allowing to connect users on multiple frequencies and start delivering services quickly and cost-effectively.

Check the Datasheet for more information
Device Features

Outdoor

Device Type

Base Station System

Wireless System

5GHz, 2.4GHz, 60GHz

SFP

Yes, 10G SFP+