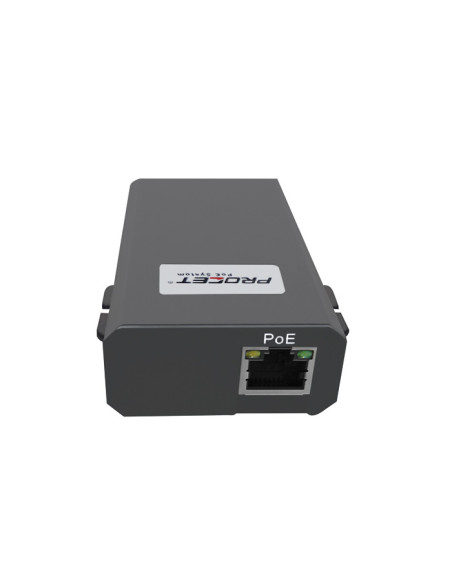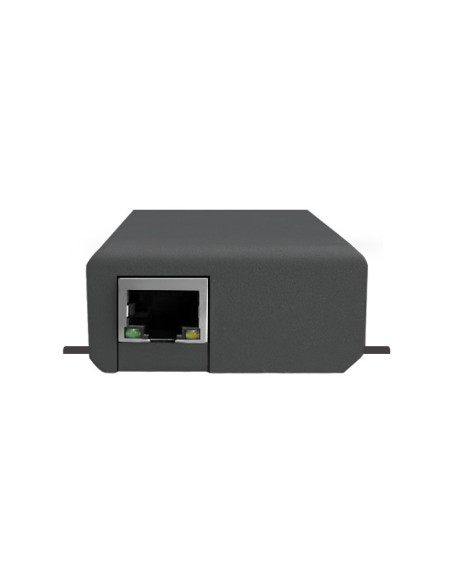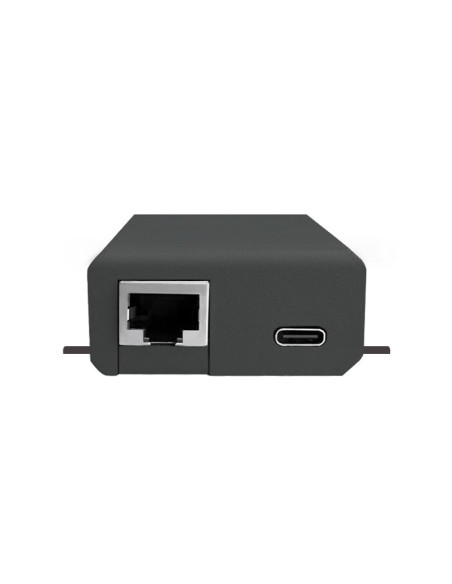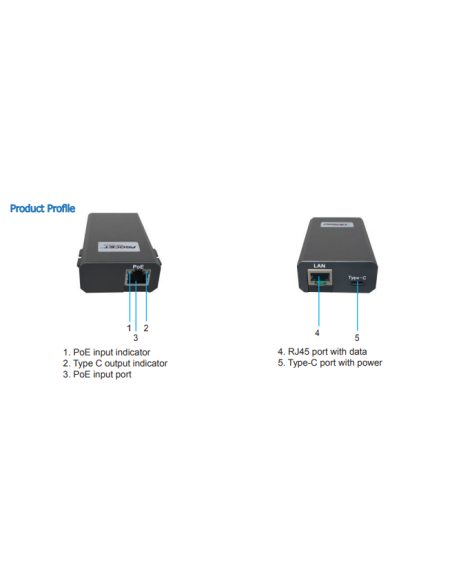 PT-PTC-BT
PT-PTC-BT is a Type-C PoE Splitter rated networking converter, special convert power&data from PoE to Type-C devices. It is with 1 PoE port for 802.3bt standard input and 1 Type-C port for power output and 1 RJ45 port for data output.
Designed only works for indoor environment, The data speed is 10/100/1000Mbps (Gigabit). This converter output total 50W for Type-C PDs, and the voltage output from the 5V-20V base on the required of your Type-C PDs. It is designed with OVP, OCP, SCP, then worked safety for the Type-C PDs, such as computers, IPad, Macbook, Google Wifi, etc.
Enclosed in an IP40 reflective metal case, designed to be powered from the IEEE802.3bt PoE switch or PoE injector. The standard effective distance is 100m from PoE switch or injector to Type-C converter over Cat5/5e/6 cables. with small size, bright, and easy to pair with nearly everything else.
Output: 5V 3.4A, 9V 3.0A, 12V 3.0A, 15V 3.0A, 20V 2.5A, Max power up to 50W
PT-PTC-BT: PROCET 50W POE to USB TYPE C-Converter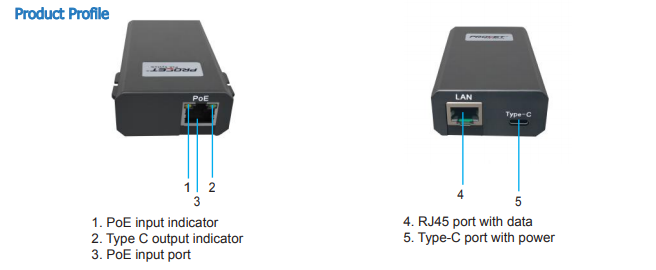 Specifications
Parameter
Description
Key Features
Type-C PoE Splitter(USB C PoE adapter)for Type-C devices
Part Number
PT-PTC-BT
Ports condition
PoE input port*1, RJ45 Data output port*1, USBC power output port*1
Regulatory Compliance
IEEE802.3bt
RoHS Compliance
WEEE Compliance
Pass Through Data Rates
10/100/1000 Mbps
Output
Pin   Assignment and Polarity:
3/6(+), 1/2(-), 4/5(+), 7/8(-)
Output Power Voltage: 5V-20V
User Port Power total:50W Guaranteen
Input
DC Input Voltage:44-57Vdc
DC Input Current: 4A
Working Environment
Operating Temperature: 0℃ to 40℃
Operating Humidity: 20% to 80%, non-condensation
Storage Temperature: -20℃ to 70℃
Storage Humidity: 10% to 90%, non-condensation
Operating Altitude: up to 2000meters

AC Surge Protection

Line-Earth 1.2/50us (8/20us): 2KV
Line-Line 1.2/50us (8/20us): 1KV
Mechanical Characteristics
Case: Metal
Color: BlackMounting
IP Rated: IP40
Connectors: Shielded RJ-45*1,Type-C Port*1
Size: 91 X 51.11 X 24.11mm
Weight: 142g(0.31lb)
LED Indicator
PoE input indicator: Green
Type C output indicator: Yellow
POE Ports

1

Power Over Ethernet

48V 60W 802.3bt
802.3bt PoE