WNAP-W2200 300Mbps 802.11n Wireless In-wall PoE Access Point
Wall Outlet to Wireless Solution
The WNAP-W2200 is a stylish in-wall Wi-Fi access point, which is specially designed for existing building structure, without affecting the appearance of the interior design. The design can provide users with convenient wireless local area network (WLAN). The WNAP-W2200 is designed with standard 86 x 86 mm European Outlet Box size and can be installed in the existing building structure to easily construct a wireless network. Thus, it helps system integrator save time, cost and human resource.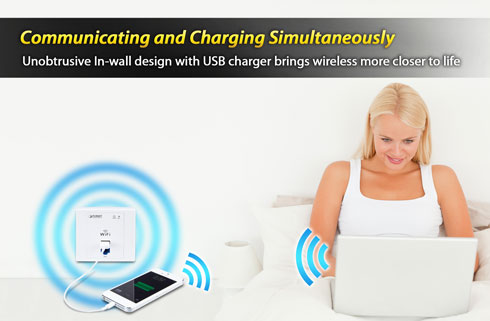 Ultra High Speed 802.11n Wireless Type
The WNAP-W2200 features IEEE 802.11n radio with 2T2R MIMO antenna technology to provide improved wireless speed and coverage with up to 300Mbps upload and download data rate. The incredible wireless speed makes it ideal for stably and smoothly handling multiple HD movies stream, high resolution on-line game, stereo music, VoIP and data streams at the same time. It is also backward compliant with 802.11g and 802.11b standards; thus, it does not need to change the existing network for convenient maintenance. Just connect to the WNAP-W2200 and you can immediately enjoy the high-speed wireless sharing.

Full Support of Wireless Security Encryption
In aspect of security, besides 64/128-bit WEP encryption, the WNAP-W2200 integrates with WPA / WPA2, WPA-PSK / WPA2-PSK and 802.1x radius authority to secure and protect your wireless LAN. It provides the wireless MAC filtering and SSID broadcast control to consolidate the wireless network security and prevent unauthorized wireless connection.

Attr1 In-wall Design
Featuring attr1 in-wall design, the WNAP-W2200 can be firmly installed into the wall via the standard 86 x 86 mm European outlet box, which is easy and convenient for room installation. Its simple body without protruding antennas also gives no effects to the surroundings.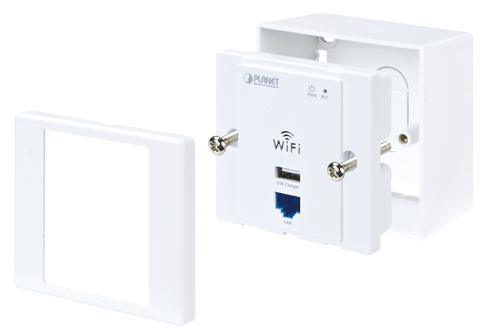 Convenient USB Charger
To provide better services for travelers, the WNAP-W2200 comes with a built-in USB 2.0 charger whose output of 5V DC power can charge any USB compliant mobile devices, e.g. cell phones, ipads, and other handheld devices. Thus, this option gives convenience to pedestrians and travelers. They need not worry about forgetting to carry an AC adapter.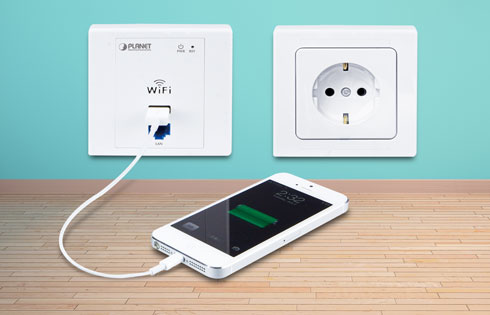 Flexible Deployment with PoE Feature
Compliant with IEEE 802.3af Power over Ethernet standard, the WNAP-W2200 can be powered and networked by a single UTP cable. It thus reduces the needs of extra cables and dedicated electrical outlets on the wall, ceiling or any other place which is difficult to reach. The wireless AP deployment becomes more flexible and worry-free from the power outlet locations.

Easy Installation & Management
With user-friendly Web UI and Central Management Utility, it is easy for users to install the WNAP-W2200, even for a user who never experiences setting up a wireless network. In addition, its SNMP feature allows the system administrator to remotely monitor and control the network devices more efficiently.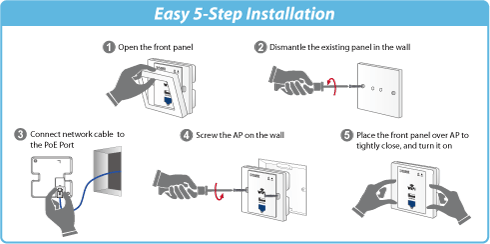 Standard Compliant Hardware Interface
Complies with IEEE 802.11n wireless LAN speed up to 300Mbps
2 x 10/100Base-TX Port with 1-port PoE PD (powered device)
2T2R MIMO technology for enhanced throughput and coverage
USB 2.0 charger port for easy charging to most of mobile devices
European 86 type wall outlet compatibility
Secure Network Connection
Advanced security: 64/128-bit WEP, WPA / WPA2, WPA-PSK / WPA2-PSK (TKIP/AES encryption) and radius authentication
Supports MAC address filtering
Easy Installation & Management
Easy deployment with standard IEEE 802.3af PoE support
User-friendly web-based UI
Centralized Management Utility allows administrator to monitor and configure
Hardware Specifications
Interface
PoE Port:
1 x 10/100Mbps auto MDI/MDI-X RJ45 port (rear panel), 
IEEE 802.3af PoE PD port
LAN Port:
1 x 10/100Mbps auto MDI/MDI-X RJ45 port (front panel)
USB Port:
USB 2.0, Type-A, 5V DC/0.5A output
PoE Standard
IEEE 802.3af
Antenna
Built-in 3dBi antenna x 2
Reset Button
Reset button on front panel
LED Indicators
PWR/SYS LED
Material
Plastic
Dimensions (W x D x H)
86 x 86 x 36 mm
Weight
113g
Power Requirements
48V DC, 320mA
Power Consumption
< 10W
Wireless interface Specification
Standard
Compliant with IEEE 802.11b/g/n
Frequency Band
Europe / ETSI: 2.412~2.472GHz (13 Channels)
Channel Width
20 or 20/40MHz
Transmission Distance
Indoor up to 100m
Outdoor up to 300m (It is limited to the environment.)
RF Power (Intentional Radiator)
IEEE 802.11b: 18dBm
IEEE 802.11g: 15dBm
IEEE 802.11n: 15dBm